Application - how to make an application
Application - an interesting and accessible form of creativity for an adult and a child. This is just cutting, overlaying and gluing parts to a specific background. Make it easy enough. With the help of applications create paintings, compositions, ornaments. Perform it on fabric or paper, other surfaces in the form of pots, boxes and other products for decoration.
The pieces of application are applied to a certain surface. The materials used are colored paper, cardboard, shells, beads, dried leaves and flowers, straw, bark, fabric. Fragments of application are pasted or sewn.
White and colored cardboard, paper with different texture, plain fabric are used as background. It depends on the use of materials for the manufacture of applique. The size is selected individually, taking into account the composition of the application and its subject.
There are several types of applications:
subject;
decorative;
plot;
Single-color;
multicolor.
Appliqué, like needlework, is widespread in everyday life. She can decorate clothes and household items, hide defects on them. It is used in the manufacture of paintings and murals.
The application originated long ago. Our ancestors decorated her clothes and shoes, dishes, household items and interior. At first the products were cut by through points. Then, when animal skins were sewn as clothing, they began to decorate them.
For decorating products used pieces of wool, fur and leather, different in shape and color, and then attached to clothes. So the application was born. The basis of the application people took their fellow tribesmen, incidents from life and hunting. For their products chose images of various objects, among which were flowers, animals, plants, fabulous and mythical creatures.
With the development of society, improved materials for the application. Later, various threads, matter, pebbles, coins, and beads began to be used with everyday materials. With the advent of paper, a new type of application has emerged.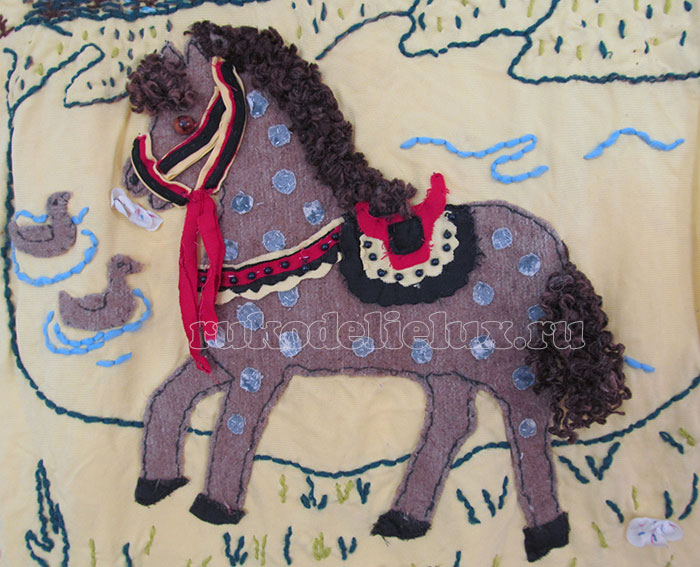 Cutting flat silhouettes has gained popularity among different segments of the population.Paper paintings fascinated more people. They appeared illustrations of life, hunting, battle of man. They tried to perform at the highest artistic level, specially trained craftsmen.
But ordinary people loved to cut. This is done by residents of Ukraine and Belarus. There are no sketches in their works. Products are cut with scissors without preliminary marking.
The process of creating an application, regardless of the materials of the work, is always the same and includes a sequence of actions:
Make a sketch of work.
Determine the size and shape of the application.
Select materials to work.
Cut the parts.
Match the background.
Place parts of the application on the background.
Stick fragments.
Put under load and dry.
You can use newspaper and magazine clippings as fragments of the application. For the manufacture of paper applications using stationery glue and PVA. For appliqué fabric use gluing and sewing.
If the parts are sewn, then they do it with machine stitches, ribbon, oblique bake and laces. If the products will not be washed, then use gluing. For these purposes, use paste, synthetic glue. It is convenient to glue the product with a plastic film.Under the cut-out fragment, they enclose a piece of film and iron it with iron.
In our times, appliqué is popular with children. She begins to engage in kindergarten. Boys and girls are happy to cut and stick certain objects, developing hand motility.
See